Valentine's Day: the day when every happy (or otherwise) couple has full freedom to flaunt their affections (or make up for their lack thereof) for their better (or not much better) halves. It's also a day when greeting card companies, chocolate manufacturers and producers of various singing stuffed animals make up for lackluster year-end sales by distributing (ad naseum) products that could make any grown woman cringe. It's an excuse for a romantic getaway, a night on the town, even an "unpredictible" proposal. It's an opportunity to show the person you love how much you love them. (The measure of which - mind you - will be measured in pounds of chocolate and stems of dying roses.) And a day for all those who are not in relationships – and desire to be - to curse the fact that Cupid ever sprouted wings.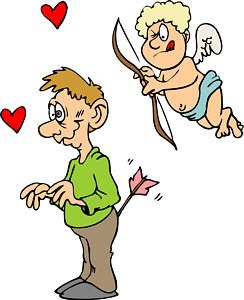 Sounds cynical? That's what life – and a number of love-less Valentines - does to you after a while, I guess. It's also what has sparked the SciFi Channel to launch its "Valentine's Day Sucks" Marathon. (And we wonder why Star Trek fans have such a reputation for being dateless little nerds? Way to expel that myth guys!)
Sadly, Valentine's Day, for too many couples becomes a day to say and do the things we should be doing every day, year round. Fortunately, though, it is a great excuse to eat and buy CHOCOLATE - guilt-free. (I may be somewhat cynical, but I'm still a girl!) Maybe it's not all that bad afterall…
This year, I have a lot more than chocolate to be grateful for. And it's not only on Valentine's Day that I remember that. It's nice to have a reminder though.
To all those out there who are miserable this Valentine's Day, have faith. Cupid's arrow may not have struck yet, but God is always in control. Trust me, I know. This comes from someone who's been boycotting Valentine's Day much longer than celebrating. And if worse comes to worse, there's always chocolate... and we can always use an excuse for more of that!