52 days ago, at sunset, Friday, August 11, 2006, M and I became one in a Christian wedding ceremony before God on Grace Bay Beach in the Turks & Caicos Islands. It was a night more perfect and romantic than I ever could have dreamed of. It was straight out of a fairy-tale and my groom was more handsome than any prince I could have imagined as a little girl growing up. The wind and the sounds of the ocean were our music. The sunbathers standing far down the beach and clapping loud enough for us to hear it when we kissed were our witnesses. And the setting sun lit up the sky brighter than any candles. It wasn't the big fancy wedding I had once envisioned but it was more than I could have ever hoped for: to be marrying my best friend, the person who knows me and understands me and accepts and loves me better than anyone in this whole world, the man who has my whole heart, who helped me through the toughest times and darkest days of my life, who stood by my side through so much more than any man ever has, my other half, my partner in crime is now my partner for life. I am the luckiest girl in the world.

There was so many times in my life that I wondered if I'd ever get to this point. Where I am truly, 100% happy and content with my life. Still, there are problems with health, which never seem to go away, but where my heart is concerned I know it is in able hands. In M, I've found more than a husband. I've found peace. And I see now more than ever why marriage is to be like our relationship with Christ and his to us. If M and I can love each other this much, how much more does God love us? He has been so faithful!

Still, I know that there will be times when our marriage will suffer trials. It already has in the 2 short months we've been married and I truly believe we are stronger for it and will be, come what may. In such a short time, I've become a wife and a step-mom, a law student and a newly-baptized Christian. It amazes me that given my past mistakes, God has brought me this far and continues to increase my joy. Nothing I could ever have done could make me worthy of such a reward as His gift of salvation, as the glimpse of heaven I have in my beautiful husband's deep blue eyes. How could I ever put to words how grateful I am to be where I'm standing? I can't.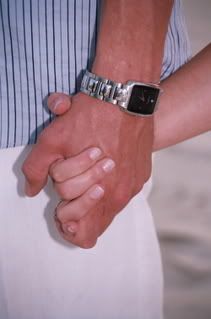 Still, I try... <3