Six months ago today, my sister's life and the lives of every member of my family were changed forever. Six months ago today, our precious Abigail Rose, my baby niece,
passed away
. When I looked at the calendar today, it hit so hard. Has it really been that long? Or that recent? Sometimes, I'm not sure which it is.
I'm haunted by the memories of
those final days
, I can recall with such clarity the drive to the hospital the day we knew would be her last. The music playing in the car, "10,000 miles" a song that still haunts me and reduces me to a puddle with the first few chords. [
listen/watch
] The last time I held her in my arms and kissed her little face. The day we said goodbye. Walking away from the place we knew her tiny body would be laid to rest. And the trip home. I took all of it with me. None of it was left beind, except the little token I left beside her in her coffin, a tiny silver heart inscribed with the words "we will miss you forever." I knew it wouldn't be forever before I'd see her again, but they were the best words I could muster at the time and best described the sorrow that was so overwhelming. -- and still is.
Fortunately, as a Christian, I know that Abigail is not in Staten Island, where my sister is headed in a few minutes to visit and lay flowers on her grave. I know that she is in heaven, that she is in the arms of our Lord, that she is free from all pain and suffering. I just wish sometimes we had had more time with her. I just wish I could kiss her little face again, look upon her navy blue eyes, and see her little "Elvis" sneer that I loved so much.
I know that everything happens for a reason but sometimes it is so hard to come to grips with. Fortunately, I know that even when I don't have the words, I have God's promises to stand on. I just pray that my sister would have this assurance and that she would realize that she never leaves her baby behind when her visit to the cemetery ends. Please keep that in prayer…
When we gather at our church and I see so many people singing songs of praise with such joy, I think about Abigail, my sister in heaven, and I think of how we will worship together someday – and that gives me comfort. In the meantime, I hold on to her memory, I cherish the short time I had with her, and take comfort in knowing she is more alive than I can ever conceive of.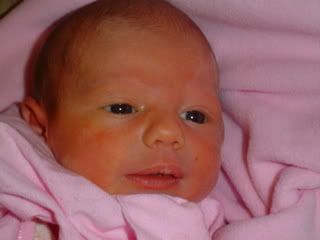 Still, I miss her...