"Cannot you not hear? Cannot you not see? And if with words You could change the way things are arranged Surely you'd be speaking, speaking no change…"
The music was blaring through the apartment as I made my way around it cleaning up from last weekend's events. It was a song on a CD that I had listened to countless times, but for whatever reason it felt like it was the first time I was really hearing it.
"Oh and I pray, my prayer's not heard. Could it be your death, death to mortal words? Oh, and see her pain, and drain and drain. Could you be deaf, and blind my friend?"
In spite of having always known that Dave Matthews Band was secular, it had always moved me to hear these objections to faith put so plainly. Despite being a Christian long before I was introduced to DMB, these were notions I had also struggled with. And listening to the songs reminded me of how difficult it often is to understand a God we cannot see and not always understand. For whatever reason, the music deepened my faith because it clarified for me how necessary blind faith often is.
The song in particular used an example of a suffering child that the singer believes God could save if He wanted to. Because nothing is done to spare the child or ease it's pain, the singer concludes that there is no God and if there is, He is not a loving God.

"Oh, so I'm praying all at night. And I wake up praying the whole daylight. I pray to you, and hear my request. I ask of you to save this baby Oh, look at the girl. Awful inside, is cancer-eaten, is life-deprived. And if so by who? Could it be you?
I see no need for a baby's wisdom for you."
This is the classic disconnect between the unbeliever and faith. It is two-pronged. It's the argument that on one hand, if we are to believe that there is a God we must accept that He is indifferent at best and on the other that if there were an all-powerful God who could correct the situation, He would, so there isn't one. Listening to the lyrics of DMBs songs, these notions are clearly illustrated.

"If at all God's gaze upon us falls it's with a mischievous grin, look at him…"
The problem of pain, as C.S. Lewis wisely noted is one that plagues the believer and nonbeliever both. Even for those who love and accept God, it's sometimes impossible to come up with an explanation when we witness needless suffering or unspeakable tragedy that seems to serve no purpose. It is at times difficult to trust that God is working when we cannot see it and accept that in order to allow free will, the problem of pain must exist. Yet in order for us to make choices, we must be given a range of possibility, we must be allowed to make bad choices that hurt others or ourselves as well as good choices that help others, otherwise we'd be no better than puppets.
Yet, rather than blame the people who sin, we blame the God who allows us the choice. We reason: if He could fix it, He would. But if He did, it would rob us of what makes us human: the ability to decide, to believe or not to believe, to sin or not to sin, to help or to hurt, to do good or evil. It is entirely our decision whether or not we trust Him and put our hope in the notion that all things will work together for good, even when we cannot imagine how.
But the point of this entry wasn't to try and explain it away or make excuse. It wasn't to try and re-iterate the finer points in C.S. Lewis' masterpiece or dabble in philosophical reasoning of my own. It wasn't the concept of God's indifference that struck me when I listened to the song that prompted me to write this blog. It was the notion that I hadn't considered: That if we suffer when we witness pain and tragedy, how much more does God suffer BECAUSE He could change it?
At any moment, God could rearrange any situation (as the singer in the song requests). But it would contradict who He is and who He made us to be if He were to pull the strings, interrupt our actions or prevent consequences. Our actions and decisions would be meaningless. We would be playthings instead of people. Instead, God must sit by and watch us destroy ourselves and each other knowing that He had the power to prevent it but could not. It would be the end of the world as we know it. Instead, God must watch the creations that He loved enough to give such limitless possibilities to go astray. I can imagine that if it hurts us to hear about, it hurts Him a great deal more.
So why not scrap the whole thing? Why not stop the world as soon as a tragedy occurs?
I'd like to think it's out of love. That in spite of our misdeeds, God finds a way to use pain to reach us, to teach us, to perfect and improve us, and that He works to comfort those who suffer through no fault of their own. And that, I guess is where faith comes in. Though every now and then I'll hear the words to some familiar song and entertain my doubts for just a moment before realizing how fortunate I am to know the truth.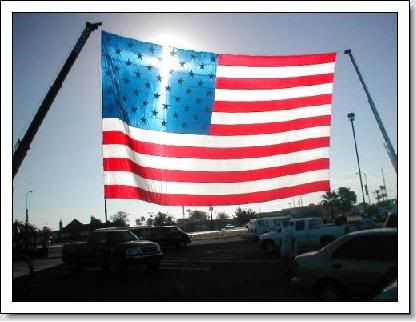 Surely, He is watching.